9 August 2023
Spring 2023 Bulletin for CAAV Members… Are you FCA Regulated?
We are increasingly aware that some Practices have found themselves required to seek Financial
Conduct Authority (FCA) Authorisation, usually at the behest of certain lenders unwilling it seems
to rely on RICS Regulation as a Designated Professional Body (DPB).
This does mean that the practice is subject to the Financial Ombudsman Service (FOS), the FCA's
financial services dispute resolution service. Those FCA regulated Practices may therefore find
themselves subject to complaints being referred to, the FOS.
What Are The Implications of This?
The FCA have long since created a mechanism whereby the maximum award the FOS might make
increases each year in line with the Consumer Price Index (CPI). The current limit, for example, for
awards in respect of complaints referred to the FOS on or after 1 April 2023 about the Practice's
acts or omissions that happen on or after 1 April 2019, is £415,000.
See the link here; https://www.financial-ombudsman.org.uk/consumers/expect/compensation
However, the standard RICS Professional Indemnity Insurance (PII) policy does not cater for awards
by any Ombudsman above £250,000.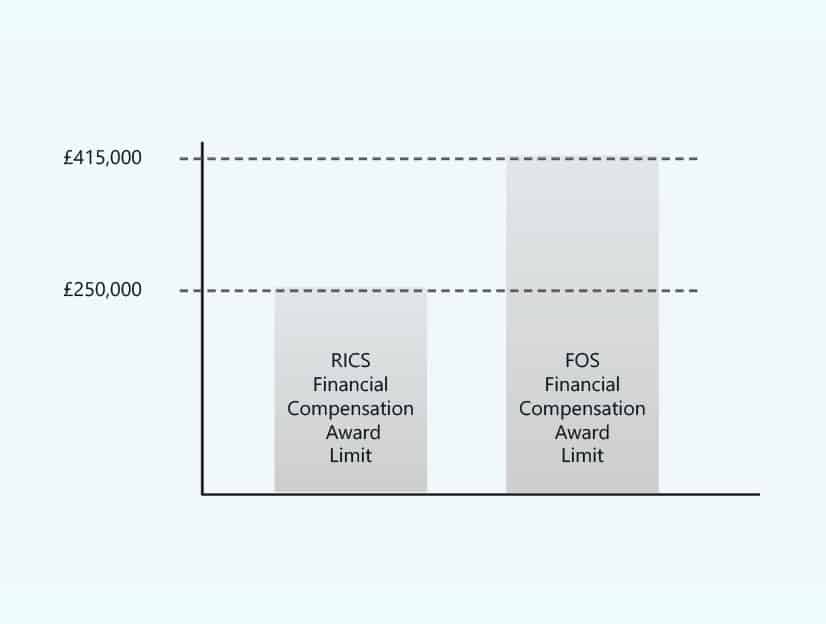 Ombudsman Awards – Is Your RICS Professional Indemnity Insurance (PII) Adequate?
For those CAAV members insuring their Practice on the CAAV members' PII facility through MFL
Insurance Group Ltd, we have an agreement in place with Insurers whereby the higher FOS Limit
will be applied to the policy by endorsement, at no extra charge, where the Practice informs us
they are subject to FCA Regulation.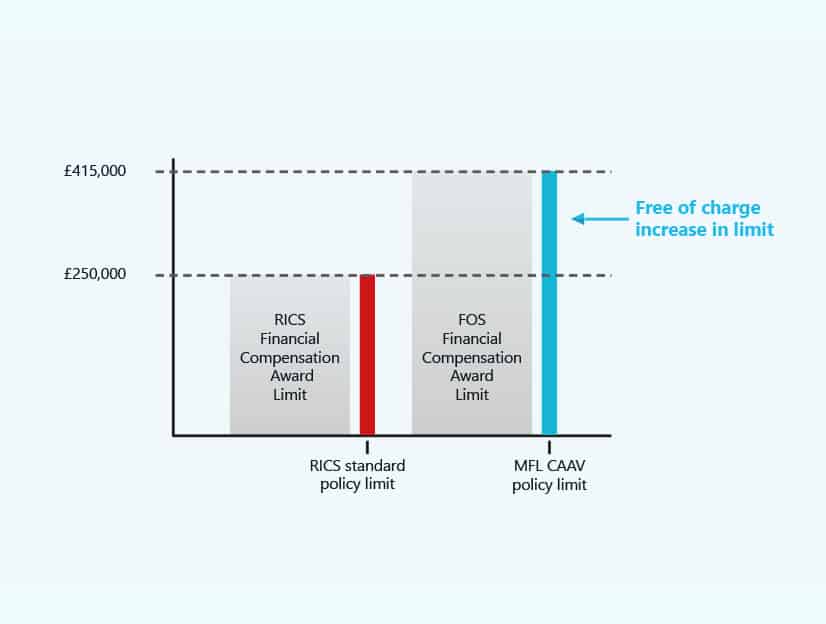 Those FCA regulated Practices insuring elsewhere, in the more generic Surveyors' PII market,
should make this clear to their PII Broker and seek a suitable extension to their policy accordingly.
Should any members find their Practices have difficulty with their Broker/Insurer in obtaining the
necessary extension to their cover, please note the CAAV Members' PII facility should be able to
assist as and when your policy next falls due for renewal.
If you have any queries based on the content above please do contact us, alternatively, if
you would like us to make contact with you in connection with your renewal we're happy to do so.
If you wish to download this bulletin, you can do so here.